About Tyler Clark: Biography Of A Drag Racing Shirt Designer
Most of us are aware of the talent it takes to create drag racing works of art that may someday become as collectible as baseball cards, some of us feel this way already. Wicked Grafixx has a style of its own in this world of high horsepower graphic artwork.

As webmaster, I had a chance to do a brief biography on Tyler Clark and give some insight into him as a person and artist "Creator Of The Baddest T-Shirts in Drag Racing".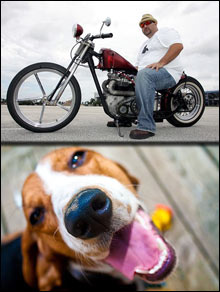 Read Tyler's Biography and Question / Answer Session Below:


Name: Tyler Clark
Hometown: Louisville Kentucky
Age: 34
Education: College Degree in Graphic Design.
Family: All Alive and Kickin'
Pets: Mable my Basset Hound
Vehicles: 65 Triumph Bonneville, 51 Harley Panhead, 07 Harley Road King, 06 Chevy Silverado. 96 Acura RL.
Interests Other Than Art: Love Blues Music, Drinkin PBR, Apple Pie Moonshine, Enjoy Cooking a lot, Boating on Lake Cumberland in Kentucky.
Question & Answer Session With The Artist Tyler Clark
Question: Tyler, What Are The Tools Of Your Trade?
Answer:
An array of Computers, Adobe Photoshop and Illustrator, Wacom Tablet, Pen and Paper. My Canon 40D for taking my own hi res images when I'm able to for my customers otherwise I have many photographers that send me detailed images for use. My IPad for viewing with customers and potential clients, this tablet is one of my best accessories.
Question: When Did You Decide You Were Destined To Be An Artist?
Answer:
I was a journeyman heating and air tech and decided I'd try a t Shirt for a friend and it evolved as I decided to continue on as my own employer.
Question: How Long Have You Been An Artist?
Answer:
Since I was young, I drew hot rods, comic book characters and have been continuing till today. I had the fortune of going to college on an Art / Football scholarship.
Question: Was The Path To Success Easy For You?
Answer:
No, when first starting, I had no idea about t-shirts and in school I was learning how to do graphic design in general, nothing I learned in school had to do with T Shirts. I basically had to train myself to do T Shirt Artwork. I had to start somewhere networking on my own and it's taken this long to get to this point since really no one will throw you a bone and had to figure out the business myself but I keep learning with each shirt.
Question: What Makes You Different From Other Shirt Artists?
Answer:
When I first started I looked at what others were doing and now I choose to NOT duplicate the average shirt. I'd like to give my customers more than they expect or even imagine with unique designs. I tend to stick with what I do best. I like the look of the real car or the original image since clients / customers come to me for the more realistic art, not the overly exaggerated images since the aforementioned is what I do best. My agenda is still to create the baddest shirts on the planet
Question: Who Were Your Influence's In Artwork For Drag Racing?
Answer:
Basically myself first since this is where it starts "In My Head" but there have been a few like Greg Ozubko, Bob Vandergriff, Kenny Youngblood, Greg Tedder, Frank Frazetta, Stan Lee. Scotty Canon comes to mind with his personality. Iron Maiden Album Art, not that I'm a huge fan but they do have some of the greatest covers.
Question: Do You Sell Your Finished Racer / Team Designs Here At Wicked Grafixx?
Answer:
I get asked this question often and the answer is an emphatic NO. I do not sell my customers shirts, we only make them. I design specifically for the owners of the shirt and will gladly put you in touch with them for purchasing since they have the final versions. Some racers have websites, facebook accounts and so on but most are busy people and one of the best methods is to catch them at the races or visit their websites / facebooks. Our own custom Wicked Grafixx Shirts are available in our store though! Check our menu at the top of the page for original Wicked Grafixx Apparel purchasing.
Question: In Closing What Would You Like To Say?
Answer:
Thank you for having a look around. Feel free to call with any additional questions you may have. We look forward to doing business with you. To our current and returning customers, thank you for the support and we look forward to hearing from you again soon.

Sincerely Tyler Clark

Wicked Grafixx: T Shirt / Crew Shirt Design Process
Tyler Clark will take you through the process of your shirt design specifically made for you and your team / fans through a consultation; be it your idea, or Wicked Grafixx own creation. Your racing shirt / shirts is a promotional object not just for you but for us; Tyler Clark as the Custom T-Shirt designer. The initial consultation, the integration of your design into the final stages of proofing, you are in the mix of it all from step one to delivery.


Concept

Wicked Grafixx will start with a concept from a consultation similar to any race car builder and help you decide on a design.

Meet Tyler Clark the "Baddest" Drag Racing T-Shirt, Crew Shirt designer and Concept artist HERE



Shirt Design

Our T Shirt screen printing is one of the most popular, mainly done in photoshop. Our designs start from a line drawing to a complete rendering of your car / cars.

Read More about our Racing T-Shirt Design Process HERE



Final Product

Once your Racing shirts are finished, Wicked Grafixx makes sure the design is of the highest detail and finished in the best method, ready for packaging and shipping post sales.

See all or Drag Racing Shirt Designs in Our Main Index HERE


DRAG RACING T-SHIRTS | RACING APPAREL | DRAG RACING TEAM CREW SHIRTS
Wicked Grafixx has the ability to create the most exciting racing shirts, apparel and more from our extensive background in all classes of Drag Racing. Taking the image of your car into line art "Vector Format" and Photoshop files to an extreme design. We utilize our custom fonts, your logo, our graphics and designs of the highest quality available. Our formidable collections of styles of shirts are one of the most sought after in the T Shirt business. Silk Screening, Dye Sublimation, creative designs all comes together here. See our list of styles below:


Drag Racing T-Shirt Styles

Drag Racing Shirts, Team Crew Shirts

ADRL,NHRA,OUTLAW,NMCA,NMRA
Pro Modified - Pro Mod
Big Tire Outlaw
Heavy Street
Top Sportsman
Small Tire
Outlaw 10.5 W, XTF
Drag Radial
X275 Drag Radial
Limited Street
True 10.5
Index Drag Racing
Grudge Racing
Sport Compact Drag Racing
Competition Drag Racing

Graphics, Elements, Fonts

Drag Racing T-Shirt Design Elements

Adobe Vector Illustration Output
Adobe Photoshop Rendering
Highest Quality Fonts
Full Themes Available
Flames
Skulls
Chains
Real "Carbon Fiber"
Turbochargers
Superchargers
Nitrous
Helmets
Custom Patterns
Custom Backgrounds
Real Fire & Smoke
Logo, Sponsors Integration

Drag Racing Crew, Team Shirts

Team Crew Shirts, Pit Shirts

Highest Quality Shirts
New & Exciting Designs
Full Themes
Exclusive Elements
Custom Styles
Use Your LOGO
Front & Back Illustration
Dye Sublimation
Pattern Overlays
Broad Range Of Graphics
Print From Image Capable
Real "Carbon Fiber"
No "Cookie Cutter" Shirts
Fully Fitted
Lightweight, Durable
Comfortable