Exclusive Custom Outlaw 10.5 Drag Racing T Shirts / Crew Shirts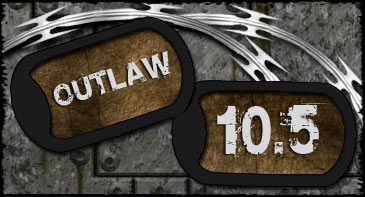 From the east coast to the west coast, Outlaw 10.5 Drag Racing is where the action is as with our custom made Drag Racing T Shirts for this class seen all over the country.

We specialize in hard hitting powerful images of your race car with or without a theme in single car and multiple cars designs, silk screened / screen printed with brilliant color and graphics.

Our renderings are highly detailed by Graphic Artist Tyler Clark. Detail so real the quality is fantastic once you see the final product with exceptional looking turbochargers, supercharges and nitrous oxide fire and flames.

The Outlaw 10.5 series all over the states from ADRL, Yellow Bullet Nationals Cecil County, Shakedown at E Town and ORTC have been exclusive design customers for years, only the best quality in racing shirts and apparel will do for our customers.

Wicked Grafixx also offers complete Outlaw 10.5 Drag Racing T Shirt, Crew Shirt and Team / Pit Shirts to make you the "Baddest to the Finish"

Available also in T Shirt - Crew Shirt Packages

Request A Quote: Pricing Structure Here



PLEASE NOTE: Wicked Grafixx "DOES NOT SELL OUR CUSTOMERS DESIGNS" but can put you in touch with the owners / team for purchasing options from them through our contact page.

Wicked Grafixx: Outlaw 10.5 Custom Drag Racing T Shirt Designs Photo Gallery
Check out all our recent and past Outlaw 10.5 Drag Racing T Shirt designs in this full featured photo gallery of the "Baddest T Shirts In Drag Racing" by Tyler Clark of Wicked Grafixx. You can also have matching team uniforms, Crew Shirts and Team / Pit Shirts with our complete packages here T Shirt - Crew Shirt Packages


| | | | |
| --- | --- | --- | --- |
| NEW !! Joel Wensley Outlaw 10.5 Camaro Drag Racing T Shirts | NEW !! Al Sarraf Outlaw 10.5 Drag Racing T Shirts | NEW !! Big Time Automotive Bob Romano Outlaw 10.5 Camaro Drag Racing T Shirts | NEW !! Maui Dragway 2014 Drag Racing T Shirts |
| | | | |
| --- | --- | --- | --- |
| NEW !! Nick Agostino Outlaw 10.5 Camaro Drag Racing T Shirts | NEW !! Dom Luppino Outlaw 10.5 Mustang Drag Racing T Shirts | NEW !! M Papadakis Outlaw 10.5 Drag Racing T Shirts | NEW !! Paul Mouhayet Outlaw 10.5 Drag Racing T Shirts |
| | | | |
| --- | --- | --- | --- |
| NEW !! Willard Kinzer Multi Car Themed Outlaw Drag Racing T Shirts | NEW !! Craig Pio Outlaw 10.5 Camaro Drag Racing T Shirts | NEW!! Frank Mamone Mr 10.5 Outlaw Drag Racing T Shirts | Satori Brothers Racing Drag Racing T Shirts |
| | | | |
| --- | --- | --- | --- |
| Mark Kyger Turbo Outlaw 10.5 Chevy II Drag Racing T Shirts | Shawn Zubler Returning Customer 2012 Twin Turbo Version Outlaw 10.5 Trans Am Drag Racing Shirts | Jason Enos Outlaw 10.5 Turbo Mustang Drag Racing Shirts | Mo Hall Nitrous Outlaw 10.5 Camaro Drag Racing T Shirts |
| | | | |
| --- | --- | --- | --- |
| Onfre Benvavidez Outlaw 10.5 Drag Racing T Shirts | Carlos Zaldivar Outlaw 10.5 Twin Turbo Corvette Drag Racing T Shirts | Dom Luppino Australia Outlaw 10.5 Turbo Mustang Drag Racing Shirts | Saud Al Zabin Mustang Team Desert Demons Racing Kuwait Outlaw 10.5 Drag Racing T Shirts |
| | | | |
| --- | --- | --- | --- |
| Shawn Zubler Outlaw 10.5 Trans Am Nitrous Drag Racing T Shirts | Harold Caldwell Outlaw 10.5 Mustang Drag Racing T Shirts | Rick Weatherbee Outlaw 10.5 Drag Racing T Shirts | Ken Rainwater Outlaw 10.5 Mustang Wicked Drag Racing T Shirts |
| | | | |
| --- | --- | --- | --- |
| Smiley Cordero Outlaw 10.5 Drag Racing T Shirts | Lou Denny's Outlaw 10.5 Nitrous Chevelle Drag Racing T Shirts | Steve Kirk Outlaw 10.5 Drag Racing T Shirts | Mike Hill Outlaw 10.5 Mustang Drag Racing T Shirts |
| | | | |
| --- | --- | --- | --- |
| Rick Thornton Nitrous Outlaw 10.5 Drag Racing T Shirts | Brian Penna Outlaw 10.5 Camaro Drag Racing T Shirts | Tim Miletti Outlaw 10.5 Drag Racing T Shirts | Mike Madus Outlaw 10.5 Drag Racing T Shirts |
| | |
| --- | --- |
| Jack Barfield Nitrous Camaro Outlaw 10.5 Drag Racing T Shirts | Justin Humphreys Twin Turbo Outlaw 10.5 Drag Racing T Shirts |