Themed Drag Racing T Shirts, Made For More Than One Car Or Based On A Theme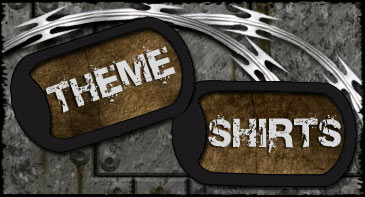 Looking for the ultimate in a custom Drag Racing T Shirt. Our "Theme" Based or More Than One Car Shirts easily fit into this category. Racing shirts designed with a theme or multiple cars included.

Our theme designs incorporate a race car track, your own country, or even a city rendering to complete an artistic and detailed design. Many styles are available and life like in many ways such as Jim Halsey's Yellow Bullet Record Breaking Camaro Pro Mod, Paul Majors Drag Radial Corvette New York City Rendering and more.

Fit yourself in one of these designs and be completely different. Cool designs with a "Wicked Touch"

Available also in T Shirt - Crew Shirt Packages

Request A Quote: Pricing Structure Here



PLEASE NOTE: Wicked Grafixx "DOES NOT SELL OUR CUSTOMERS DESIGNS" but can put you in touch with the owners / team for purchasing options from them through our contact page.

| | | | |
| --- | --- | --- | --- |
| NEW !! Draggin' Main Custom Themed Drag Racing T Shirts | NEW !! Terry Barkley Custom Small Tire Themed Drag Racing T Shirts | NEW !! Tommy Franklin, Franklin Motorsports Themed PDRA, EOPMA Pro Modified Nitrous Camaro Drag Racing T Shirts "Returning Customers" | NEW !! Baxted Racing 1971 Hemi Cuda Outlaw Pro Mod Themed Drag Racing T Shirts |
| | | | |
| --- | --- | --- | --- |
| NEW!! Tyler Crossone Three's In The Freeze Themed Outlaw Street Car Reunion Event Drag Racing T Shirts | NEW !! Tyler Crossone's Outlaw Street Car Reunion II Theme Drag Racing T Shirts | NEW!! C Hankins Drag Racing T Shirts | NEW !! Chad Branson X275 Drag Radial Dodge Dart Themed Drag Racing T Shirts |
| | | | |
| --- | --- | --- | --- |
| NEW !! Chad Henderson Outlaw Drag Radial Grand National Multi Car Drag Racing T Shirts | NEW !! J Benham Pro Modified Corvette Drag Racing T Shirts Custom Theme | NEW !! Dave Hance 57 Chevy Pro Modified New York Motorsports Theme Based Drag Racing T Shirts | NEW !! Derick Anson River Rat 4X4 Drag Racing T Shirts Custom Theme |
| | | | |
| --- | --- | --- | --- |
| NEW !! Trenton Industrial Equipment Rentals Wild Business T Shirts | Jeff Hoskins Custom Paint Theme Based T Shirts | Frank Mamone Outlaw 10.5 Theme Based Drag Racing T Shirts | Hyperkontrol Theme Based Drag Racing T Shirts |
| | | | |
| --- | --- | --- | --- |
| Saud Al Zabin Mustang Team Desert Demons Racing Kuwait Outlaw 10.5 Drag Racing T Shirts | Mike Madus Outlaw Super Street Drag Racing T Shirts | Paul Majors Outstanding New York City Rendering Classic Themed Outlaw Drag Radial Corvette Drag Racing T Shirts | Unforgettable Travis Swearingen Supercharged Willys Themed Drag Racing T Shirts |
| | | | |
| --- | --- | --- | --- |
| Steve Kirk Outlaw 10.5 Classic Drag Racing Themed T Shirts | Chuck Weck Supercharged Studebaker Pro Mod Classic Drag Racing T Shirts | Stanley & Weiss Racings Appalachia On Steroids Wiskey Barn Themed Pro Modified Drag Racing T Shirts | Jim Halsey's Yellow Bullet Record Setting ADRL Camaro Pro Mod With His Cecil County Dragway Home Track As A Backdrop Themed Drag Racing T Shirts |
| | | | |
| --- | --- | --- | --- |
| Mike Hill Outlaw 10.5 Mustang Hitman Themed Drag Racing T Shirts | Abduls Corvette Pro Mod Drag Racing T Shirts based on a Middle Eastern Theme | Smiley Cordero Awesome Themed Drag Racing T Shirts | Lou Denny's Outlaw 10.5 Nitrous Chevelle Cecil County Dragway Themed Drag Racing T Shirts "Amazing Detail" |
| | | | |
| --- | --- | --- | --- |
| Chris Gish Automotive Themed Racing T Shirts | Sutton Hi Performance Business Themed Drag Racing T Shirts | | |