Wicked Grafixx Custom Race Car Renderings | Vinyl Race Car Wraps

Whether you run Pro Modified or sportsman your vehicle's appearance is extremely important. Wicked Grafixx will work with you to create a design that commands attention through or race car wraps and race car renderings.

Professional and effective designs and renderings have become part of our complete services. Paint scheme designs can be created not only for your race car but also for your trailer and support vehicle matching your racing operations.

Our graphics are of the highest quality for any type of application, for racers who want that "One Off" looks that only Wicked Graphics can give you. Complete in high detail, either a custom paint render or a vinyl wrap is a great start with a rendering.


Stanley & Weiss Cadillac CTSV Pro Mod PDRA Pro Extreme Paint Rendering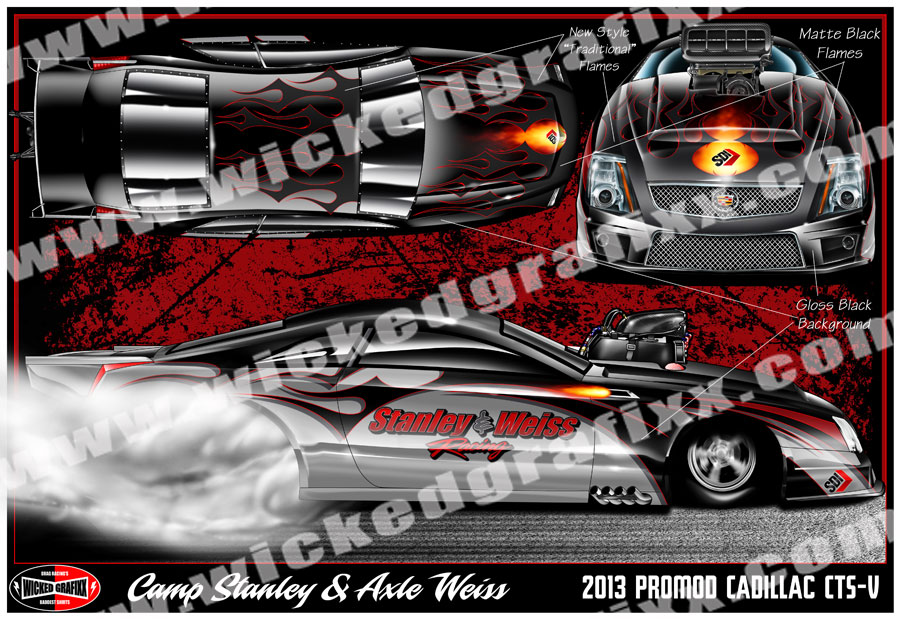 Jason Jones 69-70 Mustang Custom Rendering Paint Scheme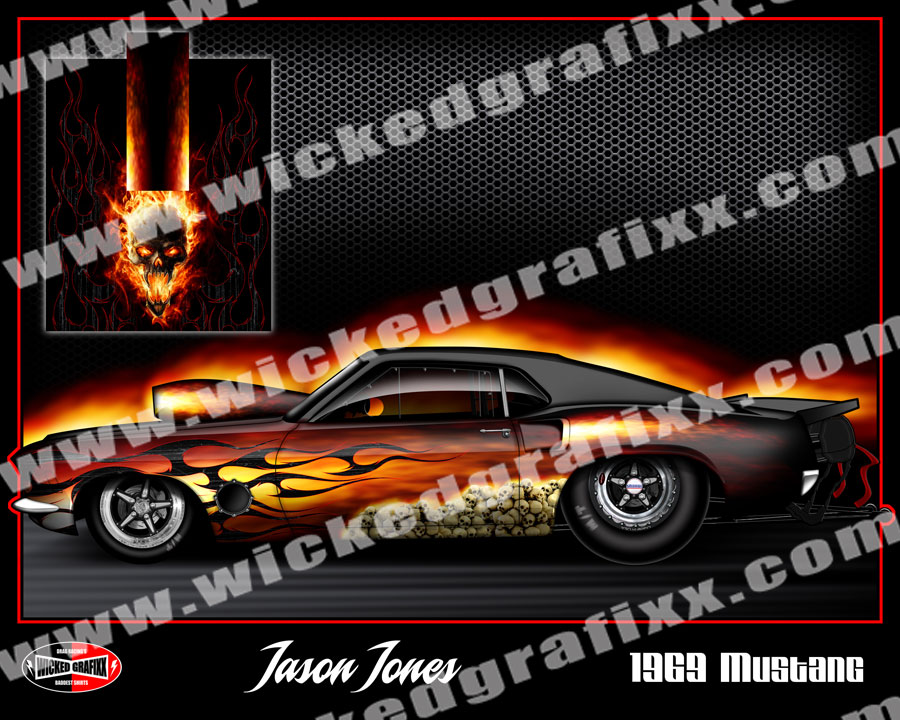 Rocky Di Leece Camaro Pro Mod Rendering Paint Scheme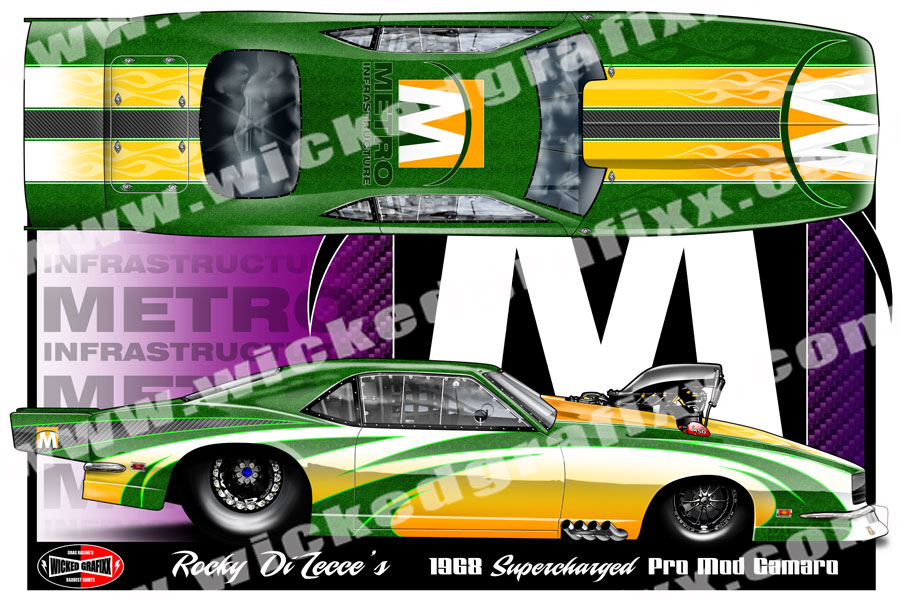 | | |
| --- | --- |
| Stanley & Weiss Racing Pro Modified Cadillac CTSV Rendering | Tommy Franklin Pro Modified Camaro Rendering |
Full Length High Quality Trailer Wrap Design For MVA Customs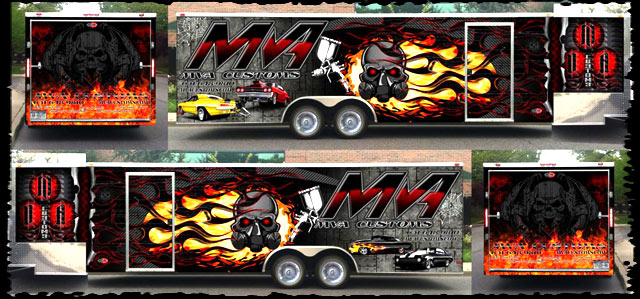 Now that we are slowly offering Race Car Wraps / Race Car Renderings and Paint Scheme Designs here at Wicked Grafixx... a customer (Mike Chirello of MVA Customs in NY) contacted me about doing his t-shirts for his pro street Camaro and a wrap for his customer car hauling trailer to showcase his attitude and the amount of custom work he does there at his shop.

(The Daytons and Vogue tires were a tasteful special added touch by yours truly!!!)


Saud Alzabin's 1967 Twin Turbo Pro Mod Shelby Mustang Paint Scheme Rendering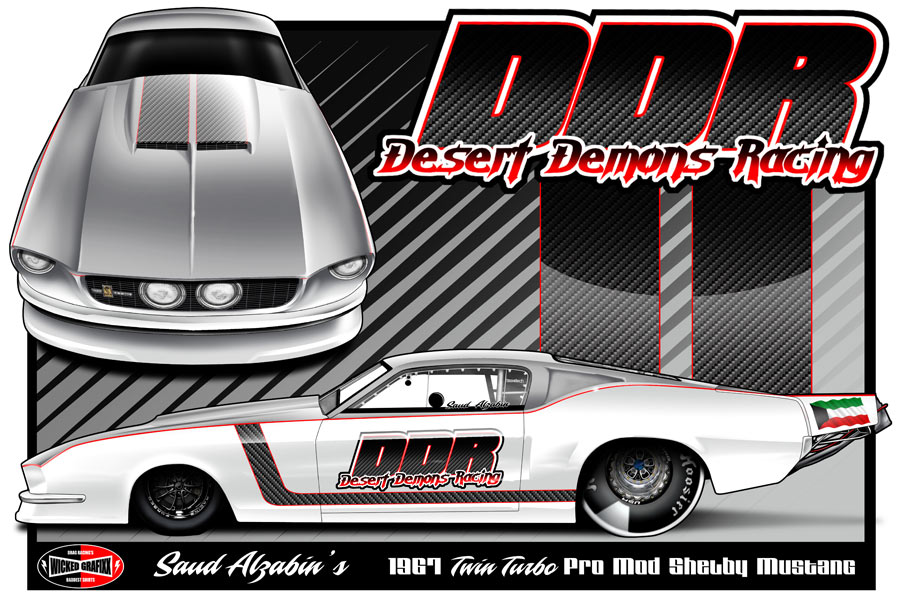 Danny Lowry Pro Extreme Mustang Rendering



Just off it's record setting pass of 3.80 in the 1/th mile, This custom rendering was done using Wicked Grafixx's patented artwork for the finest example of taste and that ultimate "Mean Look". Multi colored flames set on a primered look base shouts "Power". Mustang was wrapped in vinyl and put on the track.